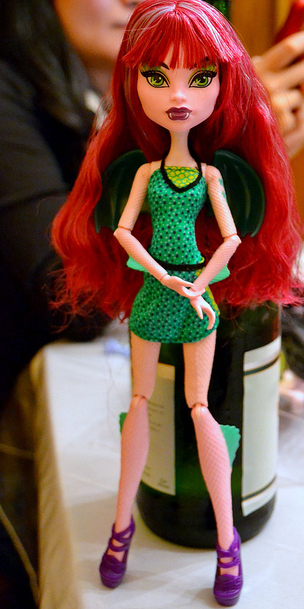 Avalon Dragonflame™
Daughter of the Dragon
Age: 16
Killer Style:
I wear beautiful long dresses, and I wear regular clothes and the are totally cute. So fab, so hip chic, I have some serious style.
For being a total perf princess, I sure can bring it.
Freaky Flaw:
Well there is one thing I don't like about myself is that I have a serious attitude. A serious attitude as well as a serious fashionista and a serious singer.
Favorite Food:
Purple and black.
Favorite Food:
Chinese Food, toes delish.
Biggest Pet Peeve:
Everyone thinks I'm gonna be a jerk to them whenever I'm talking to them, just because i am a perf. I am a nice perf though.
Favorite Activity:
Singing.
Pet:
I have a puppy named Sequin. She is totes adorbes.
Favorite School Subject:
Music.
Least Favorite School Subject:
Math.
BFF's:
Jackson Jekyll and Harmony Cook.
Avlaon Dragonflame, is a beautiful exchange student from the mountains, she is very nice and she has mabey one mean side. Avalon Dragonflame is voiced by Kylie Deveau(Me). Avalon Dragonflame is a create-a-monster.
Avalon's favorite saying is "Well, scratch my scales"
Avalon is a real sweetheart. She is super sweet and she is VERY popular, and every guy at monster high wants to be her boyfriend and all of the girls want to be her friend. Even Nefer and Cleo de Nile, and even Toralei, Meowlody and Purrsephone.
Avalon is voiced by Kylie Deveau (me).
Physical DescriptionEditEdit
Avalon has a blue belly and the rest of her is like a pink and her hair is red with blue streaks, and she has green wings, and she has green eyes, and on her arms and legs she has green scales.
Avalon is a dragon, dragon are kind of like dinosaurs but dragon's blow fire. But Avalon has to be careful sneezing and coughing, because when she coughs she leaves little fire trails and when she sneezes she blows fir everywhere! What a catastrophe
Avalon is the Daughter of the Dragon. she is an only child, and she has a pet.
Her friends are Jackson Jekyll and Harmony Cook are her friends, and she hates Harmony's step sister, Hope.
PetEdit Avalon has a pink poodle named Sequin.