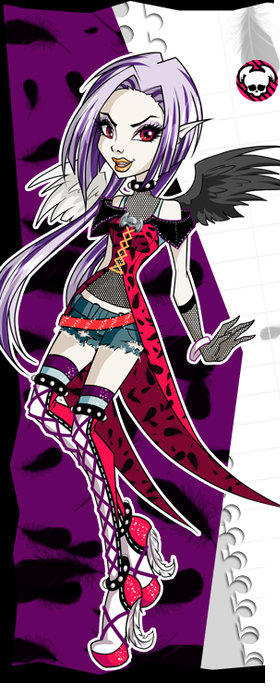 Epica Fly
Daughter of the Fallen Angel
Age: 16
Killer Style:
It's really hard not to notice me, because I'm always wear something bright and challenging. Although, may be because I behave strangely enough, I'm to active.
Freaky Flaw:
In some times when I'm excited I have a problem, I can't control myself, I think you know how it is. Also at that moment my wings are growing up very quick and they're to large, so in some room there is not enough space, that's why at home we have big rooms.
Pet:
Really? Here is a hint to why I don't have a pet . . .I don't like animals!
Fav Activity:
Of course flying, then you'll feel so free!
Biggest Pet Peeve:
When someone ignores me. Really, it's rude.
Fav School Subject:
Geography. Because it's the best time for sleeping. :P.
Least Fav Subject:
Math. I really can't understand it, those numbers, formulas, eh . . .I don't want to talk about it anymore.
Fav Color:
Pink and Purple
Fav Food:
Yogurt. It's so creamy and many different flavores.
BFF's:
Odette Swan and C.A. Cupid.
Epica Fly is also a exchage student from Heaven, though she is a Fallen Angel.
Epica is actually reallly sweet kind hearted. She is a graceful flyer too!
Physical DescriptionEditEdit
Epica has purple hair, she has white skin, she has a really cute shirt on short jean shorts, and she has scary cute shoes, and they have a feather for a heel.
Epica is a fallen angel. a Fallen Angel, is an angel who fell from heaven. it could be a regular angel or the angels of darkness.Epica is a regular angel.
Epica is the Daughter of the Fallen Angel
For friends she has Odette Swan and C.A.Cupid.
PetEdit
I'm sorry for animal lovers bit Epica does not like animals.
Romance
NONE.