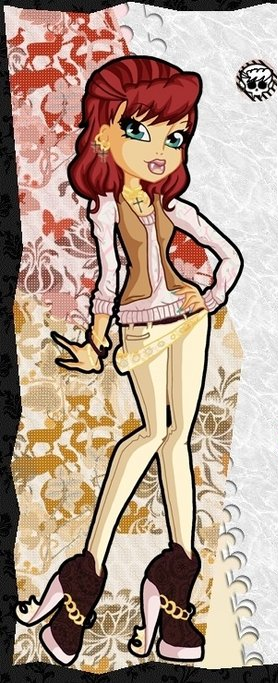 Layla Pires
Daughter of the Dampier
Age 15
Killer Style:
Fashion! I'm a totsl It-Girl, you know? And that's why I prefer to wear fashionable clothes.
Mostly I wear warm cuddly things that don't disturb me in a fight.
Freaky Flaw:
I would like to be a normal, because as a dampier I have to train to be a guardian for a royal monster. That's really great, but sometimes it's vary stressful and hard. Plus I'm scared of angels and ghosts. Don't laugh or I l kill you!
Pet:
Apollon, my little bad Rottweiler. He may look sweet and loving, but In reality he's a totally devilish dog. And I love him so much, no much, no much, no matter, no matter how he is.
Fav Activity:
I love hunting! When I hunt then I feel free. It's such a wonderful feeling, believe me. And I also like poems or poetry. <3
Biggest Pet Peeve:
I said, I hate angels. They are all so cocky and arrogant. It's annoying. And Ghosts, I don't them either. If something is undead, then it can't exist. That's how I see it.
Fav School Subject:
Physical Deaducation. Everybody thinks a girl like me isn't strong enough or something else. Well hey, I got some news for you boys and girls . . . I'm one of the best Guardians and every time I win against the boys. So in your face!
Least Fav Subject:
Hmm. I don't think a have a least favorite. I like all of them. They are all special and interesting.
Fav Color:
Red and gold.
Favorite Food:
All kinds of fruits , like apples, oranges, pears and lemons.
BFF's:
Draculaura
Layla is a Dampeir, she is 15 years old. Her duty is to protect all of the royal people and monsters.
Layla is sometime nice. She is afreid of Angels and Ghosts, don't luagh at her or she will kill you! >_>
Physical DescriptionEdit
Layla has red hair, she has human skin color, she has a super scary cute outfit.
Layla is the Duaghter of the Dampeir.
Her friends are Draculaura.
PetEdit
She has a rottweilwer named Apollon.